Regular readers of this blog know that I'm a movie buff as well as a Superfast Reader. So, in honor of today's work read, I'm posting an entry in the Close-Up Blogathon, hosted by my friends over at The House Next Door. Matt Seitz has already posted a fabulous article on one of the final images in Raising Arizona. I'm also dedicating this post to the closing images in Into the Wild–a man's face intercut with a man's memories, confession, repentance, and salvation all on a face beyond words. (I was bawling like a baby. See this movie.)
The title of this post, "Too Many Notes," comes from a standout scene in Milos Forman's Amadeus. The emperor tells Mozart that his opera has too many notes. Mozart asks the emperor which His Majesty would have removed. Ha! This small scene reminds me of Kristin Thompson's seminal essay "The Concept of Cinematic Excess" found in the anthology Narrative, Apparatus, Ideology. Simply put, excess refers to images that bleed out from the screen, refusing to be contained by the superficial meanings found in the text of the film. Sometimes excess yields subtext; other times, excess offers a critique. The musical, being the most performance-dependent of all film genres, gives us excess at every turn. And it's this excess that reminds us what movies do that books cannot.
So, in celebration of the power of the image, I'm offering up four of my favorite examples of cinematic excess in the musical. I didn't adhere to the rules of the blog-a-thon exactly, because these aren't close-ups of faces, but each is a moment that highlights performance, and the actor's body, above all else.
Pictures & videos after the jump.
1. Cyd Charisse's legs in Singin' in the Rain.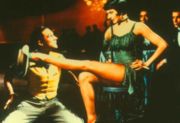 Some might ask "Why the legs, not the 80-foot scarf?" To that, I say that you can't have the scarf without the legs. The prop has no meaning otherwise. Charisse appears in the "Broadway Melody" sequence of the movie, a musical number that is excessive in its own right. It has nothing to do with anything we've seen, narratively, in the rest of the film; it does not advance the story and its themes are largely unrelated to the themes of the film, except in the vague assertion that both are a celebration of performance. Charisse's character in this sequence has no equivalent in the rest of the film. She is neither Lina Lamont nor Kathy Selden. And because neither of these two women–Don's putative love interests–are sexualized, Charisse's long legs and the choreography given to her by Gene Kelly leap off the screen and remind us of what is missing from the story. There's no sex in Singin' in the Rain, but Cyd Charisse's legs remind us that there's no dancing without sex.
2. The light shooting from Liza Minnelli's hands as she finishes singing "Maybe This Time" in Cabaret.
With this simple lighting choice, director Bob Fosse sanctifies Sally Bowles's needy promiscuity as the vulnerable aches of a woman who can't let go of hope, not for anything. I cry every time I watch this scene, so poignant are Minnelli's performance choices It's that ache of desire that reminds us why Nazi Germany came to be, and why the world rallied to defeat it. Evil feeds on the crevices of longings unmet, but it's those very longings that can point us upward, filling us with light like angels, like Liza bathed in light.
3. Ann-Margret's opening and closing numbers in Bye Bye Birdie.
This number was commissioned for the movie version of the Broadway show. If you've seen the film, you know that it's largely chaste, centered around a simple, uncomplicated kiss. Yet, because of this opening, the threat that Ann-Margret's Kim McAfee might actually want something more from Conrad Birdie permeates the movie with an adult sexuality that threatens the proper morality supposedly espoused by the film. Director George Sidney puts all the lust that's missing from the rest of the film into Ann-Margret's opening, inviting arms and knowing gaze as she shimmies for the camera. All we get is a static shot of Ann-Margret, and there's no question that she's a woman who knows what she wants.
4. Eminem in the final rap battle in 8 Mile–"Fuck the beat, I'll go a cappella."
For now, Eminem's performance as B Rabbit is overshadowed by his public persona. I think time will out, but if you can, try to divorce the two in your mind now. Fuck Eminem. That's B Rabbit's real message. Persona is nothing. For all the posturing and swagger and victories at the mic can't overshadow the fact that "Clarence's parents have a real good marriage," and Hailie Mathers's don't. Make fun of it all you like, but the truth hurts because B Rabbit makes it hurt by turning all that anger back on himself for not being good enough to be a loser like Clarence. At this moment in his life, to perform is to strip naked, go a cappella, and hit himself before anyone else can wind up a punch. His win is a Pyrrhic victory, capped by the fact that he has to go back to work. B Rabbit is almost the inverse of Sally Bowles, with no hope at all except in music that can unify and electrify a room, hands in the air (but he really does care). Director Curtis Hanson shoots this transition over Eminem's shoulder, at a slight distance, denying us that hardened babyface, as if to say that the winner we see isn't the real B. Rabbit.
I dare anybody to show me how the written word can do what these 4 images and moments can do. All are triumphs of performance that add complexity and depth to the stated themes of the works in which they're found.
(And this post is going up in the place of a YA book I'm reading for work later today.)
Share on Facebook