Many thanks to Little, Brown for offering 2 of my readers a chance to win prizes for The Vampire's Assistant movie release, in theaters 10/23.
Two (2) winners will receive:
Cirque du Freak book Set (3 titles in one book)
Cirque du Freak: The Vampire's Assistant Locker Mirror
To enter, leave a comment on this post. For a second chance to win, post about the contest on your blog and leave the link below. The contest runs until 10/15/09 at 11:59pm EST.
And vote for your favorite Cirque du Freak t-shirt and help me win! Just click on your favorite slogan in the widget below. The participating blog recording the most votes total gets a special prize, so hook a superfast reader up, y'all!
The Vampire's Assistant movie, based on the first three books in the series, is coming to theaters October 23rd.
Cirque Du Freak: The Vampire's Assistant, based on the popular series of books by Darren Shan, is a fantasy-adventure about a teenager who unknowingly breaks a 200-year-old truce between two warring factions of vampires. Pulled into a fantastic life of misunderstood sideshow freaks and grotesque creatures of the night, one teen will vanish from the safety of a boring existence and fulfill his destiny in a place drawn from nightmares.
Shipping Guidelines:
The Vampire's Assistant giveaway is open to legal US residents who are at least 13 years of age as of October 1st. Prizing is only available to United States mailing address only. (International readers can enter if they have a friend in the States who can accept their prizes by mail.)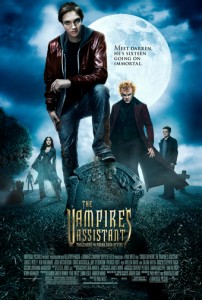 Share on Facebook