The good folks at Aladdin have 1 signed copy of Morpheus Road: The Light to give to 1 of my lucky readers!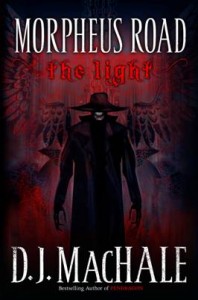 To enter, leave a comment below by 11:59EST on Tuesday April 27th. You can earn extra entries by blogging or tweeting this contest and leaving a trackback (as a separate comment) below.
I had a chance to take a look at Morpheus Road: The Light and it's testosterone-laced and filled with thrilling horror of the action-y variety.
About the book:
#1 NYT bestselling author D.J. MacHale's Morpheus Road trilogy brings readers down an ethereal pathway between the worlds of the living and dead.

Marshall Seaver is being haunted. In The Light, the first installment of this chillingly compelling trilogy, sixteen-year-old Marshall discovers that something beyond our world is after him. The eerie clues pile up quickly, and when people start dying, it's clear whatever this is–it's huge.

Marshall has no idea what's happening to him, but he's soon convinced that it has something to do with his best friend Cooper, who's been missing for over a week. Together with Coop's sister, Marsh searches for the truth about what happened to his friend, ultimately uncovering something bigger than he could ever have imagined.

D.J. MacHale is the author of the #1 New York Times bestselling Pendragon series. He has written, directed and produced many television series and movies for young people including ARE YOU AFRAID OF THE DARK. His work has been seen on Nickelodeon, The Disney Channel, HBO, Showtime, PBS, Discovery Kids and the broadcast networks. D.J. lives with his family in Southern California.
Share on Facebook